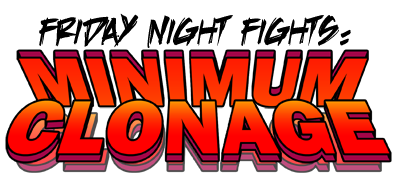 Friday Night Fights:Minimum Clonage - Round 11: The Joker's Wild!
It's time for our penultimate round of
Friday Night Fights: Minimum Clonage
, where no contestant is allowed to re-use a dominant fighter in this bout. But first, let's review the Used Character Board
(TM)
:
Shadow Lass, Professor Zoom, Ant-Man (Scott Lang), Iron Man, Bethany Cabe, Liberty Belle, Nexus, Black Rider, The Ancient One, Superman.
Since none of
those
jokers has scored me a victory this bout, I thought I'd try the
actual
Joker this round, courtesy of
Batman: The Killing Joke
by Alan Moore and Brian Bolland. (Tonight's fight music is by
Bob Dylan
.) The Clown Prince of Crime just tried to break Commissioner Gordon by shooting his daughter Barbara and then kidnapping Gordon and forcing him to ride through a twisted funhouse.
Here, Batman arrives to inform the Joker that he has failed in that endeavor.
The Joker does not take this news well.
Aw, Joker, Joker, Joker! Don't shoot the messenger!
Hit him with a two-by-four instead!
For more insanity, click
here
. And don't forget to vote!