Friday Night Fights: Assassin - Round 7: Killing Him Sadly!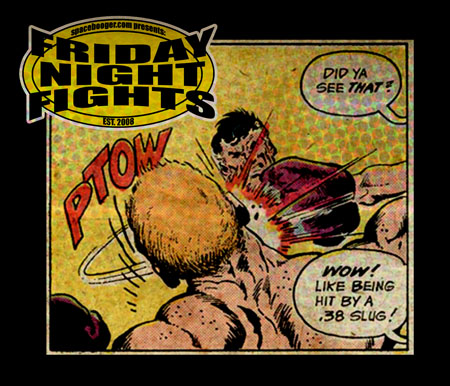 Usually my rounds of
Friday Night Fights: Assassin
are rather uplifting. You'll find tonight's round, on the other hand, to be a bit of a....
downer
.
Our featured melancholy melee comes from Plastic Man#26 by Joe Millard and Jack Cole. Here's the lachrymose lowdown: Master thief Phil "Sadly-Sadly" Sanders, while on the run from Plastic Man, auditions for an off-Broadway play and, thanks to the tutoring of the casting director, discovers he can contort his face into a countenance so pitiable that he can make those who look at him feel so sorry for him that they can't resist doing anything he asks them to do.
Once he's figured out where Sadly-Sadly will strike next, the Ductile Detective disguises himself as a nearby security guard, taking special care not to look at Sadly's face. When Sadly strikes at the anticipated jewelry store, Plas makes his move.
And so begins our funereal fracas.
Thus the crowd feels so sorry for Sadly-Sadly that they....
....BEAT THE LIVING CRAP OUT OF PLASTIC MAN!!!
And so Sadly-Sadly's
doleful departure
snaps the crowd out of its
murderous malaise
, leaving them to think they
killed
our
Stretchable Sleuth
.
(
SOMBER SPOILER
: They
didn't
.)
Tonight's fight music for our
dour donnybrook
is this
mournful melody
by
They Might Be Giants
.
For more
woebegone wallopings
, click
here
. And don't forget to
vote
!
Or
Spacebooger
will be
very sad
!
(Special
grim gratitude
to
Joe Bloke
.)