Friday Night Fights: THUNDERSTORM! Prize Fight - You Know What Happens To A Giant Robot When It Gets Hit By Lightning?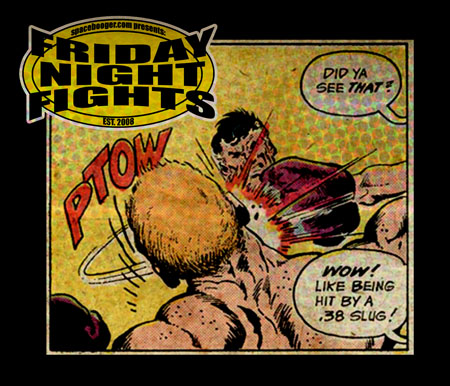 At first my jaw dropped when I read the rules to the
FNF: THUNDERSTORM! Prize Fight
, particularly when I read
this
:
every fight should reference some kind of severe weather.
The reason for my reaction? Because I had just posted a fight that was a perfect fit for those qualifications. In
Round 12
. Needless to say, I was struggling to come up with another appropriate fight....until I remembered the heroine whose
codename
is
synonymous
with severe weather....
LITERALLY
.
Tonight's
tempestuous tussle
comes from
Uncanny X-Men#98
, written by
Chris Claremont
and illustrated by
Dave Cockrum
and
Sam Grainger
. Synopsis: The
X-Men
are enjoying Christmas in downtown
New York
when they are attacked by
Sentinels
. Here,
Ororo Munroe
aka
Storm
charges into battle. But before she can face the deadly robots, she must first rescue an imperiled teammate.
That's why.
Ok, Ororo's mad now. Which means:
Watch out, Sentinel!
Ok,
Spacebooger
, is
that
enough of a
severe weather reference
for you?
Scott, you're a
buzzkill
.
Yeah, chill out, Scott!
Tonight's prizefight is this inclement anthem by the
Kooks
.
For more
storms a-brewin'
, click
here
. And don't forget to
vote
!