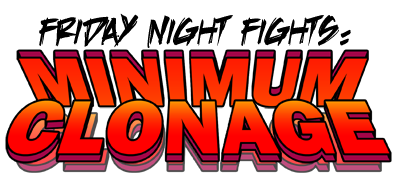 Friday Night Fights: Minimum Clonage - Round 6: We Will Post No Fight Before Its Time!

These are fighters I used as the dominant fighter in my previous rounds, therefore, according to our hospitable host Spacebooger, I cannot re-use any of them as the dominant fighter in a subsequent round in this bout.
However, nowhere do the rules state that I can't bring any of them back as the losing fighter. Therefore, after spotlighting Professor Zoom beating the crap out of Wally West and Hal Jordan in previous weeks, tonight's the night that Zoom gets his bell rung.
Or, rather, he gets his Belle rung.

Liberty Belle, that is. Also known as Jesse Chambers or by her other superhero codename, Jesse Quick. So for tonight's fight music, I'm going with Madonna's "Dear Jesse" .
This awesome display of "Girl Power" comes to us from Flash: Rebirth#5 by Geoff Johns and Ethan Van Sciver. I fell in love with this scan when it came out in mid November of last year, but because of our host's 6-month rule, I could not showcase it until now.
Tell me what you think, and don't forget to vote.