Friday Night Fights: Fight Life - Round 3 - Have Yourself A Haney Christmas!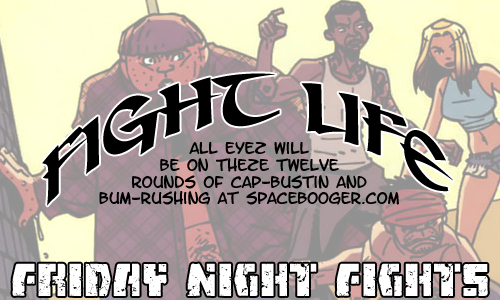 It's time for another installment of
Friday Night Fights: Fight Life
! Our host, Spacebooger, has informed us that this is the last FNF round before Christmas, so I'm using this round to deliver some groovy holiday cheer, Bob Haney style!
Tonight's Dickensian donnybrook comes from
Teen Titans#13
, "The TT's Swingin' Christmas Carol!", written by crazy ol' Bob Haney and illustrated by Nick Cardy.
Synopsis: Greedy junk dealer Ebeneezer Scrounge sends his employee Bob Ratchet home early. Unbeknownst to Ratchet, his wheelchair-bound son Tiny Tom has decided to pay his dad a surprise visit at work. He misses but arrives just in time to witness Scrounge colllaborating with a smuggler named "Mr. Big". Tom tells his dad, but when Bob confronts Scrounge, Scrounge makes Ratchet work Christmas Day to keep an eye on him. At that point, Tiny Tom calls in the Teen Titans.
After the Titans save Ebeneezer from being killed by his escaped convict partner, Jacob Farley, Robin, being the genius that he is, sees the obvious parallels and decides to have the Titans pose as the three ghosts to scare the "Dickens" into Scrounge and make him change his ways.
(It's
Bob Haney
. Just
go with it
.)
Here the Titans are taking down Mr. Big and his goons. Or
trying to
.
Surely, the Fastest Teen Alive can save the day, right?
Wrong!
And don't call me "Shirley".
"Wonder Chick" to the rescue! Or not.
After seeing the thugs trash Tiny Tom's wheelchair, Scrounge has had enough.
But what about Tiny Tom?
That wraps things up! And speaking of wrapping, tonight's fight music is
"Christmas Wrapping"
by the Waitresses.
For more seasonal slugfests, click
here
. And give the gift of votes!
Merry Christmas to all, and to all a good
fight
!