Friday Night Fights: Maxim - Round 11: Prom Night!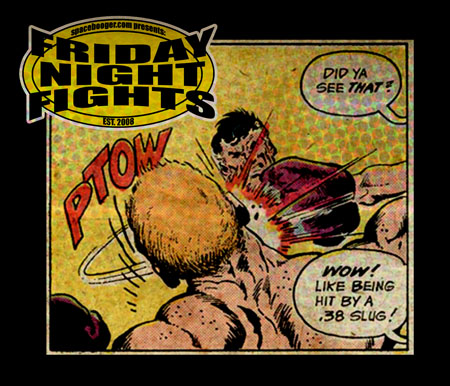 Tonight's round of
Friday Night Fights: Maxim
celebrates the approach of
prom season
by showcasing
a very special
Marvel teen superhero prom
.
The festivities come courtesy of
Avengers Academy#13
, courtesy of
Christos Gage
,
Sean Chen
, and
Scott Hanna
. Synopsis:
Avengers Academy
is throwing a special prom to help the students unwind after surviving a tense battle with
Michael Korvac
. In addition to the Academy members, other teen heroes like the
Young Allies
and various former members of the
Initiative
have also been invited. However, as with
many
teenage events, things don't go 100% smoothly, as
Hardball
starts a fight with Academy team leader
Reptil
after the former's ex,
Komodo
, flirts with the latter.
Here, Academy teacher and prom deejay/chaperone
Speedball
steps in to break up the fight, and is met with some
resistance
.
Lesson: When it comes to
energy balls
, volume beats size
every time
.
But don't worry! It all works out in the end, and
everybody
has a
good time
, as you can see below.
For more
high-energy ballin'
, click
here
. And don't forget to
vote
!