Friday Night Fights: Hands Of Stone - Round 7: Loading Up On Karb (Part 2)!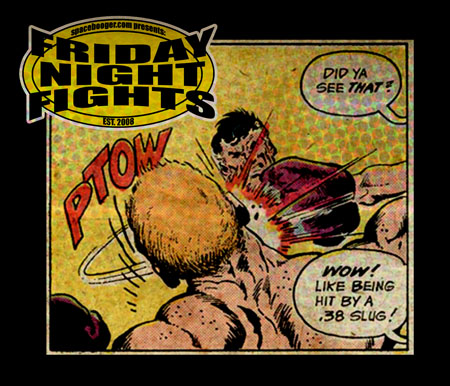 In yesterday's
introductory
"Loading Up On Karb"
segment, I spotlighted obscure Bronze Age Superman foe
Karb-Brak
. To make a long story short, Karb was an alien from a planet in the Andromeda Galaxy where everyone had
Kryptonian
-type powers. Unfortunately, Karb was diagnosed as
fatally allergic
to Kryptonian-type powers. So his planet's doctors sent him disguised as a human to Earth, specifically
Metropolis
, to recuperate, unaware that
Superman,
who
also
has Kryptonian-type powers
,
lived there. (
Nice research
there, alien docs!). Rather than do something logical like, say,
moving to a city other than Metropolis
, Karb decided his only recourse was to kill or banish Superman. After some vain attempts, Karb managed to use his alien
Deus-Ex-Machine Psi-Machine
to exile Superman to 1776 Pennsylvania and rewriting memories to make him (and the native 1776ers) believe that he's
Clark Kent
,
reporter for the Pennsylvania Gazette
. Superman's removal from the present sent Brak's debilitating allergy into remission.
OK, got all that? Good. Let's pick it up from here:
Clark eventually figures out his real identity and, after pausing briefly to thwart an attempt to steal the Declaration of Independence (either by British Loyalists or a time-travelling
Nicolas Cage
, not sure which), he makes his way back to
1976
for a showdown with our
ailin' Andromedan
.
Which brings us to tonight's round of
Friday Night Fights: Hands Of Stone
, featuring this
bicentennial brouhaha
from
Action Comics#463
, written by
Cary Bates
and illustrated by
Curt Swan
and
Tex Blaisdell
.
Even at death's door, Karb-Brak can still kick some ass!
You know who else can kick some ass?
Spacebooger.
And because our host loves the
old-school hip-hop
, tonight's
fight music
will be provided by
Run-D.M.C.!