Friday Night Fights: Fight Life - Round 11: Milestone's Blaze Of Glory!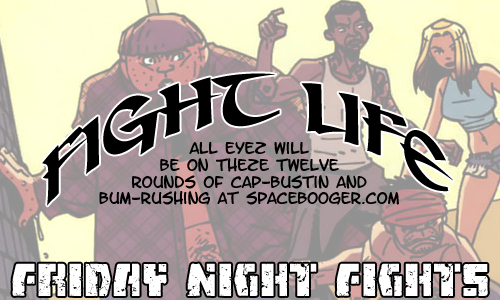 In honor of
Dwayne McDuffie's passing
this week, my Round 11 entry for
Friday Night Fights: Fight Life
comes from last year's
Milestone
Forever#
1, which was not only one of my favorite comics of last year but also the last new McDuffie story I read. The art is by M.D. "Doc" Bright and Romeo Tanghal. This story was to serve as the last hurrah of the Milestone Universe.
I was very disappointed that DC could not properly incorporate the Milestone characters into the mainstream DC Universe. The only Milestone character to garner any decent exposure recently has been Static. DC has had some serious problems with lack of diversity over the last few years, problems that could have been greatly alleviated in one stroke
and
produced some damn good comics to boot. Tonight's showdown will demonstrate that. Our fight music for this incendiary battle is provided by
The Trammps
.
Here, Wise Son fights the evil Holocaust for leadership of the Blood Syndicate.
Apparently, Wise Son practices the "I have taken your measure" style of combat, popularized by the Mighty Thor, in which you let your opponent get in the first shots just to see how tough he is.
Now, it's Wise's turn.
And now.... the fiery finish!
And....
Harsh!
And DC couldn't find a use for the Milestone characters
why
, exactly?
For more blazes of glory, click
here
. And don't forget to
vote
!