Friday Night Fights: Fight Life - Round 6: Fighting With The Devil!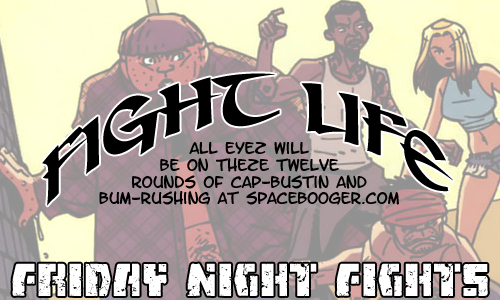 Tonight's devil-may-care donnybrook comes from
Daredevil#500
. Synopsis: Daredevil encounters Bullseye. Fisticuffs ensue.
Daredevil is getting the upper hand, but then.....
.....Bullseye
brings the noise.
And because his opponent is a man with ultra-sensitive hearing, that also means....
....
BRINGING THE PAIN!
DD tries to catch Bullseye, but....
....that's just
not in the cards
!
The above fight is from "3 Jacks", a backup story in
Daredevil#500
, written by former DD scribe
Ann Nocenti
and beautifully rendered by
David Aja
, whose art here is so good I've decided to choose
this Steely Dan song bearing his name
for tonight's fight music.
For more fights, click
here
. And don't forget to
vote
!