Friday Night Fights: Repeat Rehash Revenge - Round 6: Mild-Mannered Mayhem!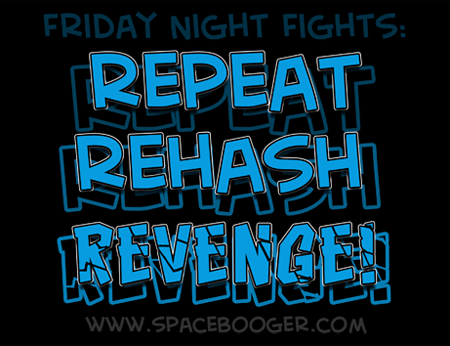 After a one-week hiatus,
Friday Night Fights
is back! For the current Repeat Rehash Revenge bout, our gracious host
Spacebooger
has commanded that the participants use one or more characters featured in the immediate previous round's fight as a participant in this round's fight. Here's my
previous entry
to refresh your memories of the players available to me. So who will I use this week? (Here's a hint: Reread this post's
title
.)
For Round 6, I'm going with
Adventures Of Superman#442
, written by John Byrne and illustrated by Jerry Ordway and Andy Kubert. Let me introduce the villains for this round,
Psi-Phon
and
Dreadnaught
. What's their schtick? Allow them to explain in their own words.
In a nutshell: Every time a hero uses a particular superpower, Psi-Phon (the little guy) analyzes that power, shuts it down through mind-control, and telepathically feeds his analysis to Dreadnaught (the big guy), who replicates that power. So after a hero uses a power against them, he or she instantly loses it.
First, they battle Superman, who loses all his powers to them and barely escapes with his life. Then they go up against and defeat, in order....
....
Aquaman
.....
.....
Martian Manhunter
.....
.....
Elongated Man
.....
.....and even
Captain Marvel
!
Who can possibly defeat these two villains? Why, none other than....
......
CLARK KENT!!!!
Yes,
CLARK KENT!!!
Mild-mannered reporter for a great Metropolitan newspaper!
CLARK KENT!!!
Bereft of his powers but armed with a powerful force-field belt borrowed from Professor Emil Hamilton!
CLARK KENT!!!
Who
just happened
to have appeared as an observer in
last round's fight
! (See how that works?)
Go to it, Clark!!
Mild-mannered
, my @$$!!!!
You can say that again, little dude!!
So who will I use for next week's round? Clark? The Martian Manhunter? Aquaman? Elongated Man? The Big Red Cheese? Or maybe even.....Psi-Phon and Dreadnaught? Tune in two weeks from today and find out!!
In honor of tonight's depowering motif, here's some appropriate fight music from
Arcade Fire
.
For more mild-mannered melees, click
here
. And don't forget to
vote
!