Friday Night Fights: Repeat Rehash Revenge! - Round 5: Dueling Loises!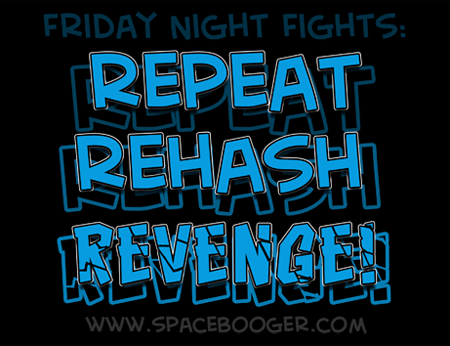 Tonight's fight comes to us from Superman/Batman#29 by Mark Verheiden and Ethan Van Sciver. Synopsis: Clark Kent is working at the Daily Planet when he's suddenly greeted by none other than......
.....
SILVER AGE LOIS LANE
.
(Which is really strange, considering this story is set in
2006
.)

Needless to say, between the pillbox hat and Lois' strange New Age dialogue, Clark is seriously weirded out.
My thoughts exactly, Clark.
But before Clark can figure out what's happening, they're suddenly interrupted by none other than.....
.....MODERN AGE LOIS LANE!!!!!!
Harsh, Modern Age Lois. Harsh!
And although he didn't get to do more than watch this time around, Clark Kent will be taking a much more active role in the next round. (And I don't mean Superman. I mean Clark.)
Tonight's fight music is provided by none other than....

For more butt-kicking and hairstyle critiques, click
here
. And don't forget to
vote
!