Friday Night Fights: Repeat Rehash Revenge - Round 7: Thunderstruck!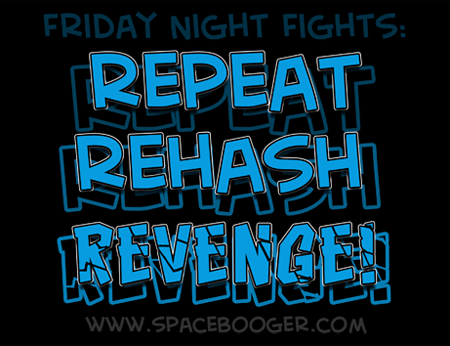 You may have noticed that my rounds in the
"Friday Night Fights: Repeat Rehash Revenge"
bout have been heavy on the Superman family characters. The reason? Because the rules of Spacebooger's latest bout dictate that for each round I have to use at least one character from fight entry that immediately preceded it, and I also have an unbroken tradition since Spacebooger started holding the competitions: Every time I win a round, my next round must somehow be related to the Legion of Super Heroes, whether it's current Legionnaires, former Legionnaires, Legion villains, and even
honorary
Legionnaires. Here's how that breaks out for the Superman Family:
Supergirl (Kara Zor-El only) - Current/former Legionnaire, both Pre- and Post-Crisis.
Superboy (Kon-El/Conner) - Former Legionnaire (mostly off-panel).
Jimmy Olsen - Honorary Legionnaire, Pre-Crisis only.
Superman (Kal-El) - Former Legionnaire, Pre-Crisis. Post-Crisis? It's...complicated. But for purposes of Friday Night Fights, I'm just going to simplify things and just rule that Post-Crisis Supes was always a former Legionnaire, because
Geoff Johns says so
.
Well, since I won
the last round
, this week's round will include the Man of Steel, but because he only appeared as Clark Kent last round, I'm going to feature someone else who appeared in that same round.
I'm going with
Captain Marvel
, because why should the Superman characters have all the fun?
Tonight's thunderous throwdown comes from
JLA#29
by Grant Morrison, Howard Porter, and John Dell. Synopsis: A fifth-dimensional genie has come to our dimension and is wreaking holy hell on Earth. Why is Superman up at the Watchtower? Because he's going straight to the Fifth Dimension to get to the heart of the problem. Just as he's about to do that, Captain Marvel shows up.
Just by observing Cap's body language in the last panel, you can probably guess what's going to happen next. We've all seen this old movie before: Our hero is about to risk his life in a grand gesture, and his pal next to him decides that our hero is too valuable to sacrifice himself and that
he
is the more expendable one, and then he delays or knocks out our hero and takes his place.
Sure enough.....
.....Cap
brings down the thunder!!!
I always love the way Supes calls Captain Marvel "Bill" when they're in private, even when "Bill" is beating the crap out of him.
Next, the Big Red Cheese ditches the unconscious Supes to venture into the old 5-D himself. Didn't expect
that
to happen, huh?
Tonight's fight music is - What else? - AC/DC's
"Thunderstruck"
!!
For more "thunder strikes", click
here
. And don't forget to
vote
!