Friday Night Fights: Smokin' Joe - Round 5: Bouncing Boy Vs. Orion The Hunter... No, The OTHER One!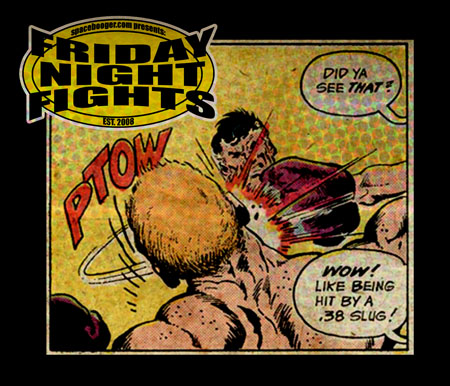 I won last week's round of
Friday Night Fights: Smokin' Joe
, and longtime readers of this blog know what that means: that my next round must somehow relate to the
Legion of Super-Heroes
.
Therefore, tonight's futuristic fracas comes from 1973's
Superboy And The Legion Of Super-Heroes#199
, written by the great
Cary Bates
and illustrated by the late, great
Dave Cockrum
. In this story,
Bouncing Boy
(aka
Chuck Taine
) is forced to fight for his life against
Orion the Hunter
.
No, not him.
I'm talking about this guy.
Apparently, one of his chief tactics is to stun his prey into a state of dizziness and nausea with his ensemble. The crew-cut and pigtails alone are making me reach for the Dramamine.
Therefore.....
....Let the hunt begin!!
Hey, Chuck! You gonna take that from a guy who
goes out in public
looking like
that
?
Luckily, the answer to that last question is
"No"
.
It seems that Chuck had a good reason for
"chucking"
himself into that icy underground spring.
Take
THAT
,
Pigtail Boy
!
In honor of tonight's loser, the featured fight music this week is by
yet another
Orion the Hunter
.
For more
bouncing brouhahas
, click
here
. And don't forget to
vote!