Friday Night Fights: Smokin' Joe - Round 11: Black Goliath Power!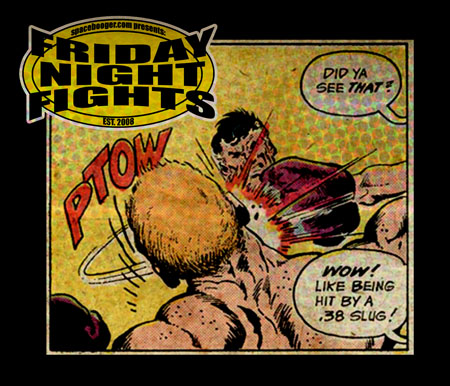 There was a lot to hate about Marvel's
CIVIL WAR
event a few years back.
Speedball's
character was all but destroyed,
Iron Man
was written as a complete douchebag, other heroes were written completely out of character. And don't even get me
STARTED
on
Sally Floyd
! But the
worst
thing about
CIVIL WAR
in my eyes?
THEY KILLED BLACK GOLIATH!!!!
THEY KILLED BLACK GOLIATH WITH A FREAKING THOR CLONE CREATED BY REED RICHARDS AND TONY STARK!!!! AND THEY BURIED HIM AT GIANT SIZE!!! IN CHAINS!!!
Yes, I know
Bill Foster
was technically just
"Goliath"
when he was killed. Yes, I know he hadn't used the name "Black Goliath" since
1979
. And yes, I even know that name was part of an unfortunate 70's trend of incorporating "Black" into the codenames of black superheroes. Despite all that.
Bill Foster
will always be
Black Goliath
to me.
Why? Not for any racist reason, but rather because of the very comic I am using for my
Friday Night Fights: Smokin' Joe
round tonight. Tonight's gigantic go-round comes from
Black Goliath#5
, in a story called "Survival!", written by
Chris Claremont
and beautifully illustrated by
Keith Pollard
.
I read the third and fourth issues of
Black Goliath
as a kid back in 1976. With art by George Tuska, Vince Colletta, Rich Buckler, and Don Heck, they were solid but unspectacular. But then came
Issue#5
, which, thanks in no small part to some
fantastic art
by Pollard,
completely blew me away
.
Synopsis:
At the end of the prior issue, the
Stilt-Man
had zapped
Black Goliath
, his ladyfriend
Celia
, and her nephew
Keith
with his untested
Z-Ray
, apparently disintegrating them completely. However, in
Issue#5
we learn that they were
not
destroyed, but rather transported to the alien planet
Kirgar
, whose harsh conditions they barely survive. Here, they are befriended by an alien being named
Derath
, who leads them to one of Kirgar's remaining strongholds, where they find alien technology capable of sending them back home to Earth.
Unfortunately, said stronghold also has a giant robot guardian named
Mortag
, who promptly kills Derath
and tries to do the same to the three Earthlings. Luckily for them, they have a giant guardian of their
own
.

(Click to enlarge)

The issue concludes with Black Goliath, Celia, and Keith mourning their dead alien friend and using the alien machinery to get home. And then.....
....the book got
cancelled
. (Sigh!)
The soundtrack for tonight's battle of the giants comes from
Young The Giant
. (Natch!)

For more
ginormous grudge matches
, click
here
. And don't forget to
vote!