Friday Night Fights: Smokin' Joe - Round 8: Vehicular Assault!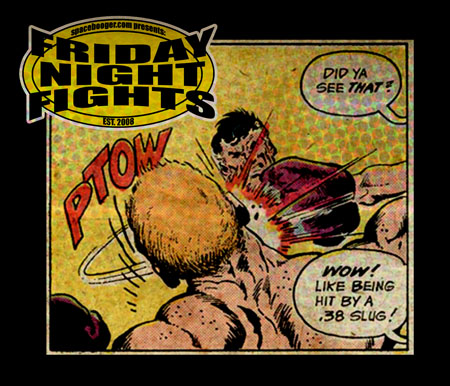 Our humble host, Spacebooger, won the last round of
Friday Night Fights: Smokin' Joe
by having Steel hurl his hammer through an ice cream truck. I think I can top that tonight.
My entry for Round 8 comes from
Planetary#3
, by
Warren Ellis
and
John Cassaday
. The team has travelled to Hong Kong to investigate stories of phantom cop who was betrayed and killed by his partner. After they talk to Phantom Cop, who should show up but his treacherous ex-partner, hell-bent on running them all down. However, the dirty cop didn't count on
Jakita Wagner
.
And how does Jakita stop the car?
Like THIS!
But wait!
Sure, Jakita's strong, but she's
diplomatic
as well!
You tell him, Jakita!
For more vehicular assaults, click
here
. And don't forget to
vote
. Or Jakita might get
mad
!