Friday Night Fights: Marvelous - Round 7: Gail Simone's Revenge!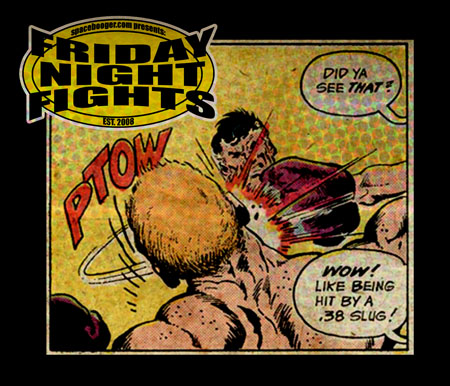 For tonight's round of
Friday Night Fights: Marvelous
, I'm introducing a new potential recurring theme. In past bouts I've introduced recurring themes such as "The Bigger They Are" and "Green On Green" in which the given theme appears more than once in a bout. Tonight's potential recurring theme is called
"Gail Simone's Revenge"
.
Why that name? Here's a little backstory: Back in 2010, DC published a book called "Titans: Villains For Hire" in which Slade "Deathstroke" Wilson killed Ryan "The Atom" Choi, whom
Gail Simone
had co-created and written years earlier. If that wasn't bad enough, the story,
not
written by Simone, had Deathstroke kill Ryan by stabbing him through the heart in a double-page spread. Worse, The story had Deathstroke present Ryan's dead body to the man who hired him, Dwarfstar, concluding with a graphic splash page of Ryan lying dead in a matchbox.
This pissed off many of Ryan's fans, leading them to coin the internet term "Minorities In Matchboxes". It also evidently pissed off Simone. But unlike everyone else, she was able to get creative revenge through her writing, specifically through her
Secret Six
stories.
Tonight's
Simonean Schadenfraude
comes from one of those stories,
Secret Six#24
, a single-issue tale illustrated by
J.
Calafiore
, in which the team is recast Elseworlds-style in the 19th Century Old West. Here, Alexandra "Junior" Merkel has sent a team of marauders led by
Slade Wilson
to kill everybody in the town, including various members of the Six residing there.
Here, Slade encounters
Floyd "Deadshot" Lawton
.
Floyd draws. It
doesn't
go well.
Floyd's
toast
, right?
WRONG!
So
Wild West Elseworlds Slade
is now
blinded
. That's the
entire extent
of Simone's creative revenge on him for Ryan, right?
WRONG AGAIN!
Now it's
Bane's
turn.
Here it comes.....
Ooh, that had to hurt!
I wish it had been the regular Deathstroke, but it's the next best thing.
You're probably asking yourself: Why did I refer to "Gail Simone's Revenge" as a potential recurring theme? Simple: Because I haven't found the other issue in my comics stash yet.
Tonight's fight music is by
ELO
.
For more revenge fantasies, click
here
. And don't forget to
vote
!