Friday Night Fights: Marvelous - Round 9: Puck You!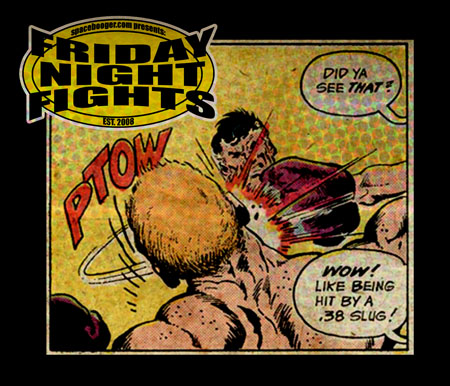 In this case, the little guy in question is Eugene Judd aka Puck from the Canadian super-team Alpha Flight.

Synopsis: It's a typical afternoon at Corky's Tavern and Mary, the waitress, has her hands full dealing with some obnoxious and "grabby" customers.
Unfortunately for the
Gropey Hand Gang
there, the
bouncer
at Corky's
also
happens to be the aforementioned
Puck
.
Mr. Judd intervenes, but the punks
don't exactly take him seriously
.
BIG
mistake!
Grabby Guy#2 doesn't take the hint from what happened to Grabby Guy#1, and....
...POW!!!
The above barroom brawl comes from 1983's
Alpha Flight#1
, written and drawn by Puck's equally feisty fellow Canadian,
John Byrne
. In honor of the valuable lesson Puck taught those two doofuses, tonight's fight song is
this classic
by
The Georgia Satellites
.
For more
scaled-down smackdowns
, click
here
. And don't forget to
vote.
Now get the
Puck
out of here!