Friday Night Fights: Maxim - Round 1: If I Had A Rocket Launcher...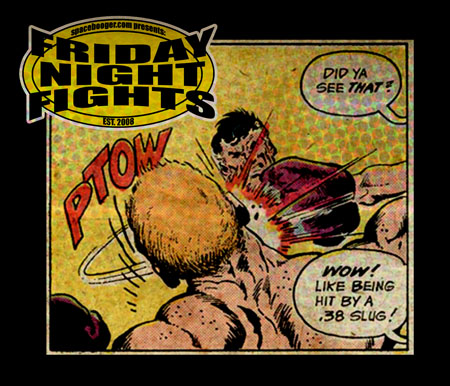 Welcome to the latest bout of
"Friday Night Fights"
, which our host Spacebooger has named
"Maxim"
in honor of boxer
Joey Maxim
.

On to our explosive first round!
And nothing says "explosive" quite like.....
....HERCULES ATTACKING MOUNT OLYMPUS WITH A BAZOOKA!!

Greg Pak, Fred Van Lente, Mike Grell, and Jeff Huet break out the heavy artillery in this Titan-ic scene from Herc#6.
As for our fight music, at first I was afraid I'd be stuck using that lame
Bazooka Bubblegum
rap song, but fortunately I remembered at the last minute
this awesome tune by Bruce Cockburn
, which I'll use as this week's soundtrack (as well as this round's title) instead. Yay,
memory
!
For more
Herculean conflicts
, click
here
. And don't forget to
vote
!
(Or you might get shelled!)