Friday Night Fights: Maxim - Round 12: Here Comes The Groom!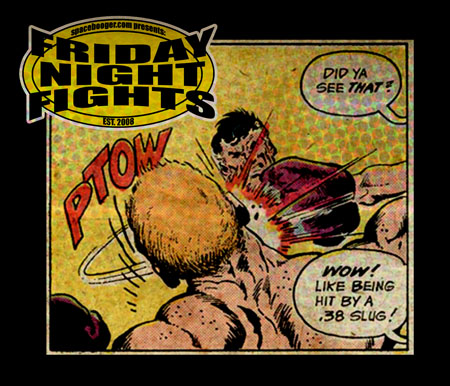 In case you haven't been reading the comics blogosphere, Marvel's first officially gay superhero,
Northstar
, just proposed to his love
Kyle
, and the two are getting married in June. This is officially
the first same-sex superhero wedding in comics
.
The reaction to this milestone event, both inside and outside the commics community, has been
mixed
, with some readers in favor of the upcoming nuptials, some doggedly against, and many more saying
"Who?"
For the latter group, let me give you some basics: Northstar (aka
Jean-Paul Beaubier
) was introduced in the late 70's as a member of the Canadian super-team
Alpha Flight
and later went on to co-star in the group's ongoing title. He came out in 1992 in that same series.
Also? He can
fly really, really fast
, as our final round of
Friday Night Fights: Maxim
will demonstrate.
Tonight's
Canadian combat
occurs in Alpha Flight#12, written and illustrated by Northstar co-creator
John Byrne
, who had intended for Jean-Paul to be gay all along but was nixed by Marvel editorial. Synopsis: Alpha Flight is battling for their lives against
Omega Flight
. One of the Omegas,
Wild Child
, is about to kill Northstar's twin sister
Aurora
, but Northstar
isn't going to let that happen
.
However, he
doesn't stop there
.
Annnnd.....
For more
fast and furious free-for-alls
, click
here
. And don't forget to
vote
!