Friday Night Fights: Mosquito - Round 8: Fists Of Plasma!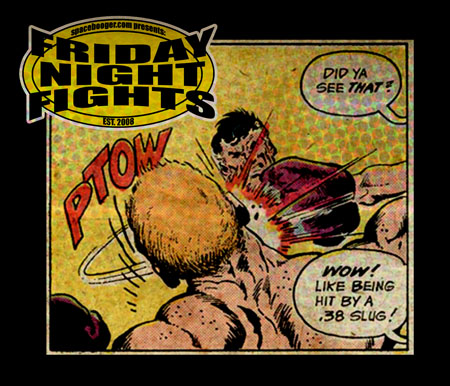 Tonight's round of
Friday Night Fights: Mosquito
highlights
fists
--
lots of them
! It comes to us courtesy of
Superman/Batman#29
written by
Mark Verheiden
and illustrated by
Ethan Van Sciver
.
Synopsis: Superman and Batman receive an emergency call to meet with Hal Jordan. Unfortunately, Hal and his ring have been corrupted by a mysterious force that's been taking control of various alien beings on Earth, so he's leading the World's Finest Team into a trap, where Superman gets a reminder about power rings.
The fight music for tonight's
eleven-fisted embroglio
is by
New Order
.
For more
emerald ambushes
, click
here
. And don't forget to
vote
!