Friday Night Fights: Sugar Ray - Round 10: She'll Knock You Into....You Know!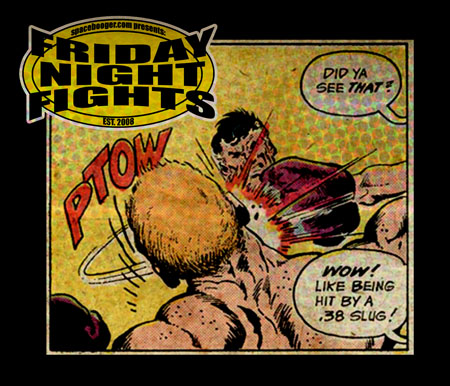 For tonight's
Friday Night Fights: Sugar Ray
round, I thought I'd showcase a
promising rookie
. The comic is
Tomorrow Jones#2
, written and drawn by
Brian T. Daniel
. (For the record, Tomorrow Jones#3 just came out this past Wednesday. Luckily, our host's rule is six
months
ago and not six
issues
.
Synopsis:
Tomorrow Jones
is the super-strong 14-year-old half human-half alien daughter of a superhero power couple. She's itching to get into the superhero game, only to be kept back by her parents. After she takes matters into her own hands and forgoes a secret identity, they finally start training her. Here, she's trying to save her human-looking alien mother
Astraea
from a being killed by Astraea's arch-enemy
Dementa
, and not doing too well.
Luckily....
....Tomorrow knows how to fight
dirty
.
But she's not done yet.
And down goes Dementa!
Tonight's fight music comes to us from Edie Brickell.
For more of
tomorrow's superstars today
, click
here
. And don't forget to
vote
!