Friday Night Fights: Boogaloo - Round 4: Stompa The Yard!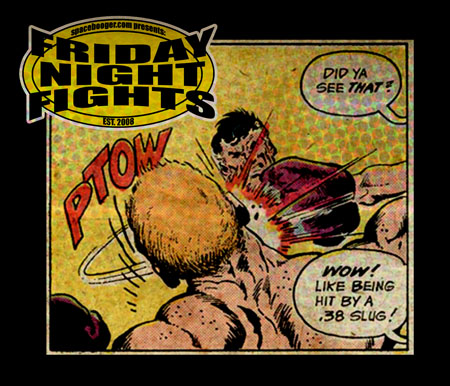 This week I happened to take advantage of a
Comixology
sale of the late 80's
Suicide Squad
run. So for tonight's round of
Friday Night Fights: Boogaloo
, I'm going with
Suicide Squad#3
, written by
John Ostrander
and
Kim Yale
and illustrated by
Luke McDonnell
and
Karl Kesel
, and featuring a member of
Kirby's Fourth World
showing some
unexpected versatility
.
Synopsis:
Darkseid
sends the
Female Furies
to break
Glorious Godfrey
out of his prison cell at
Belle Reve
, where he has been languishing since the end of
Legends
. Belle Reve also happens to contain the secret headquartes of the
Suicide Squad
. Each team has split up. Here we see one of the Furies,
Stompa
, searching the grounds for Godfrey in her own unique style.
As you can see, Bronze Tiger has just made a serious miscalculation, thinking Stompa's head is much more fragile than her feet.
Spoiler: It's not.
Nor are her
hands
.
Considering the victor of tonight's
Belle Reve brouhaha
, what
other
fight music could I pick but this
Serena Ryder
number?
For more
foot-stomping fury
, click
here
. And don't forget to
vote
!