Friday Night Fights: Baddest Of The Bad - Voting Extended!




A few days have passed since this final villainous showdown, and we're still locked in a dead heat. Since the rules dictate a 2-vote margin of victory, Spacebooger has asked each of us final contenders to ask our readers to vote at the website listed below.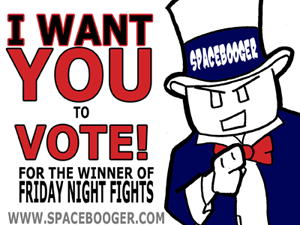 Aw, crap! I just realized that my readership consists entirely of:
a. a fellow competitor,
b. a guy who who probably loves seeing Johnny Storm get pwned,
and
c. people who are even more addicted to Hal Jordan abuse than I am.
I am so screwed!