Friday Night Fights: Repeat Rehash Revenge! - Round 1: Booster, Robot Fighter!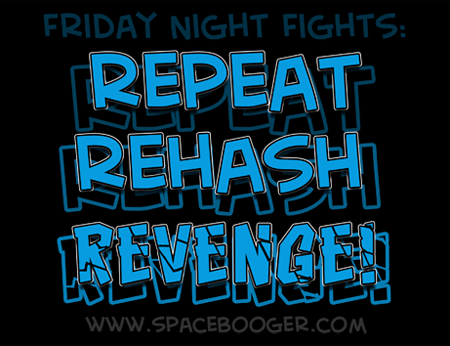 Welcome to our latest bout of Friday Night Fights, which is called "
Repeat Rehash Revenge!
". The theme, according to our host, Spacebooger, has added the following rules specifically for this bout:
1. Every entry needs to include a fight scene featuring at least one of the characters from the participant's previous FNF entry. (For the first entry this rule can be ignored. If a participant skips a week a character from their last entry should be used.)
2. The second appearance of any character MUST be from a different comic issue. (Different books are preferred, but the character may be from the same book but different issue number.)
With these in mind, my opening entry will come from
Booster Gold#23
, written and drawn by Dan Jurgens and inked by Roy Richardson. The fight below is actually a continuation of
this fight previously posted by Crisis On Earth Prime
, in which it appeared that Booster Gold had beaten the super-snot out of the Man of Steel. I say "it appeared" because it turns out that "Booster" had turned out to be a doppelganger, a fact made more apparent after the
real
Booster Gold shows up.
Yeah, why is Superman making such a weak showing here?
As much as I like the Giffen-Dematteis Justice League International era, one thing I wish we could have seen more often is that, despite being played for laughs, Booster, like his pal Blue Beetle, was smarter and more formidable than he appeared to be and could be downright dangerous. Another oft-neglected aspect of Booster in JLI was the advantages he had of
actually being from the future
.
Here, Booster goes all "Magnus" on his robot duplicate's shiny metal ass.
And why
did
Superman appear so weak? Could it be...oh, I don't know.....
.....
Kryptonite?
Apparently, the Green K must have been weakening Supes' brain as well as his body, because how else could an android fool a man with
X-ray vision, microscopic vision, and super-hearing
? Not to mention the fact that he didn't recognize Kryptonite radiation after being dosed with it a few months before?
Will the Man of Steel redeem himself in a future round? Will Booster be back? Only time will tell! In the meantime, listen to
tonight's fight song by the Who
. Then go to
Spacebooger's site
and vote!