Friday Night Fights: Smokin' Joe - Round 6: Mighty Casey!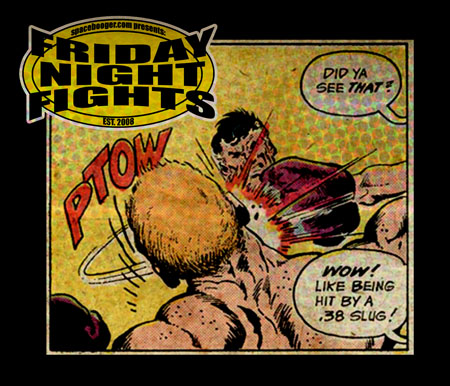 If you enjoy strong, well-written new female characters, you're really going to love tonight's round of
Friday Night Fights: Smokin' Joe
, as it showcases a name I hope will become more familiar to comic readers in the future.
That name?
Casey Blevins
.
At the mere age of sixteen, Casey's already got everything you want in a heroine: She's highly intelligent, a strong leader, and a master tactician. Also, she can kick ass if you cross her, as tonight's round will demonstrate. And, as icing on the cake, she's from
Chicago
.
In my comic-shopping last week, I took advantage of the Flashpoint-related lull in DC books to get acquainted with a new indie title via trade. I picked up the introductory Morning Glories trade by Nick Spencer and Joe Eisma. Unlike Flashpoint#5 and Justice League#1, which I also bought that week, this book did not let me down.
Morning Glories is the story of Morning Glory Academy, a prestigious but mysterious ans sinister prep school. Much of the book's focus is on six new students. One of them is the aforementioned Casey.
Tonight's scholastic scuffle takes place in Morning Glories#5, written by Spencer and illustrated by Eisma (who tweeted me back last week after I sang the book's praises). Here, she interacts with her fellow Academy student and resident bastard Ike.


Without spoiling things any more than I already have, I can only say: Ike had it coming.
Tonight's fight music comes from another "Mighty Casey" from Chicago,
Marty Casey
.
For more academic altercations, click
here
. And don't forget to
vote
!