Friday Night Fights: Maxim - Round 2: Putting Your Heads Together!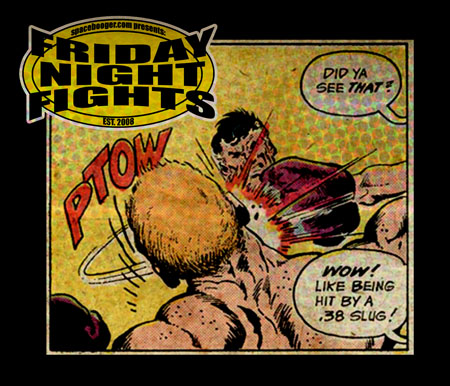 Tonight's round of
Friday Night Fights: Maxim
features some good old fashioned headbanging courtesy of
Adventures Of Superman Annual#2
, written by
Dan Jurgens
and illustrated by
Kerry Gammill
and
Dick Giordano
.
Synopsis:
L.E.G.I.O.N.
is on Earth because leader
Vril Dox II
is looking for his father. He and
Lar Gand
stumble upon
Project Cadmus
and Dox hits upon the idea of using Cadmus' advanced computers to aid him in his search. However, due to having the same name and bearing a family resemblance, Vril is mistaken for his father by both Cadmus and
Superman
. Which is really bad news since Vril's father just happens to be
Brainiac
. This leads to a brawl between Lar Gand and Supes.
And then...
Lobo
shows up.
Which leads to......
...THIS!!
Two heads bang better than one!!!