Friday Night Fights: Maxim - Round 3: Double-Team!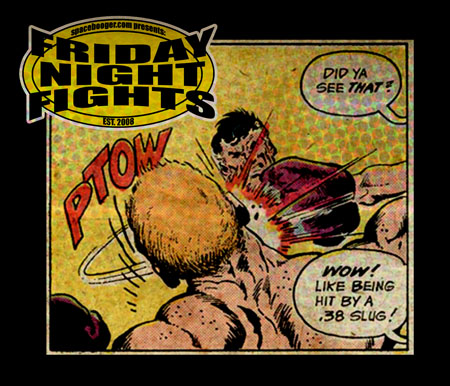 I won last week's round of
Friday Night Fights: Maxim
. I have a little FNF tradition that every time I win a round, the next round I post must somehow be related to the
Legion of Super-Heroes
. And since last week's victorious fight was between Superman (formerly
Superboy
) and Lar (
Mon-El
) Gand, I thought it would be appropriate (and fun) to show what happens when everybody's favorite
Kryptonian
and everybody's favorite
Daxamite
work together on the same side.
Tonight's
El
collaboration comes from
Superboy#239
, by
Paul Levitz
,
Jim Starlin
, and
Josef Rubinstein
. Synopsis:
Ultra Boy
has been framed for murder. Rather than just take his chances with the 30th Century justice system, he escapes Legion custody and goes on the run to find proof to clear himself. of course, the Legion finds him first. After taking out Timber Wolf, Colossal Boy, and Sun Boy, U-Boy is almost home free.
Almost.
(Spoiler: Don't worry. He gets cleared of all charges.)
For more
ultra-badass embroglios
, click
here
. And don't forget to
vote
!