Green Lantern #0: OK, Let's See If I Have This Right, DC...
This is Davood Nassur, codenamed Sharif.
From the original intended cover of Superman #712
Created by William Messner-Loebs and Curt Swan, Davood is a Muslim whose family lived in Metropolis. He has telekinetic powers and originally appeared with the codename Sinbad in a 1990 Superman 3-parter.
In 2011, Davood was supposed to be revisited under his new codename
Sharif
in one of the stories in
Chris Roberson's
portion of the "Grounded" arc, but DC
shelved
the story at the last moment.
DC Comics deemed
HIM
too controversial to publish last year.
Yet they decided
THIS GUY
wasn't.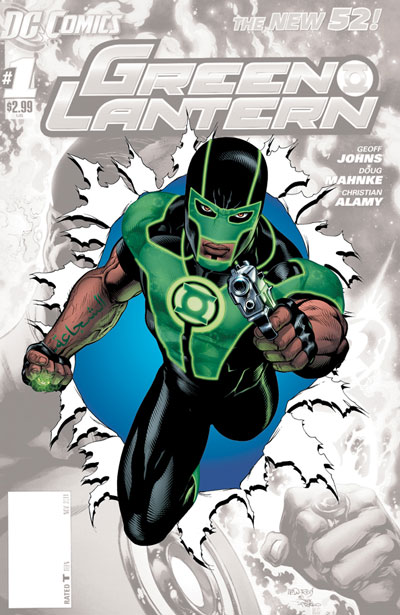 From the upcoming Green Lantern#0
This is DC's newest, as-yet-unnamed
Green Lantern
, scheduled to
appear in their September books
.
Yes, that's a
dark-skinned Muslim hero
who's.....
wearing a ski-mask,
brandishing a gun,
and looking more ready to
rob a convenience store
than to save the universe from
Darkseid
or the
Sinestro Corps
. Ah,
Geoff Johns
.
Racially sensitive
as ever!
Yet, according to DC, he's
STILL
less controversial than
THIS GUY.
Do I have that right.
DC
?