Friday Night Fights: Double M - Round 5: The Pros And Cons Of Wonder Woman!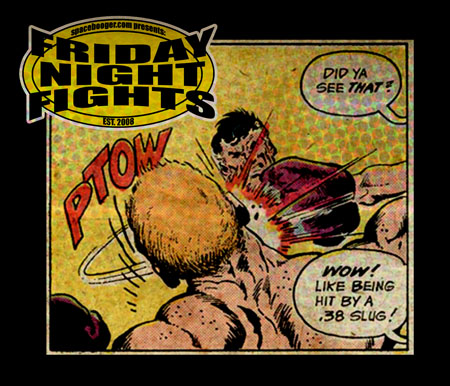 For tonight's round of
Friday Night Fights: Double M
, I'm going to feature a scene from a comic series I conyinue to have mixed feelings about:
Brian Azzarello's Nu52 Wonder Woman
.
This new
WW
series is a classic case of "Other than that,
Mrs. Lincoln
, how
DID
you enjoy the play?", except that in this case there actually
IS
an enjoyable theater play. There is a lot to like here: Azzarello presents a compelling
Vertigoesque
take on our
Amazing Amazon
.
Strife
is one of the breakout characters (in my opinion) of the Nu52. And then there's the beautiful art and design work of
Cliff Chiang
.
On the other hand, there's the
500-lb. elephant in the room
. The
"that"
in
"other than that, Mrs. Lincoln"
, if you will: The the downplaying of the
"woman"
in
Wonder Woman
. Many of the character's
uniquely feminine
elements have been diluted or replaced by
more (generic) masculine ones
. Whereas pre-
Flushpoint
Diana was essentially a golem created from clay and infused with feminine power by the goddess
Aphrodite
, in the Nu52 world she has a daddy,
Zeus
, who is now the source of her power as well. Yep, that's right: Wonder Woman now has
daddy issues
.
And that's not all. As
Ragnell
and
Certain Shades of Limelight
have stressed on
Twitter
, not only is the source of her
power
now masculine, but thanks to the
"0"
issue, so is a significant amount of her
training
, with much of her past combat tutoring now supplied by war god
Ares
, thereby de-emphasizing her
Amazon
training. (And honestly, Azz, if you
had
to have a god overseeing young Diana's combat training, you couldn't have picked
Artemis
instead of
Ares
? Her
Roman
name is even
"Diana"
, for heaven's sake!)
Still, the series is full of scenes like tonight's fight from
Wonder Woman#1
by Azzarello and Chiang of....
...Wonder Woman headbutting a centaur.
See my dilemma?
While I'm sorting out my
inner conflict
, allow me to link to
tonight's fight music
by
Natalie Merchant
.
For more
wondrous walloping
, click
here
. And don't forget to
vote
!