FNF Prize Fight: Not Quite Alive And Kicking!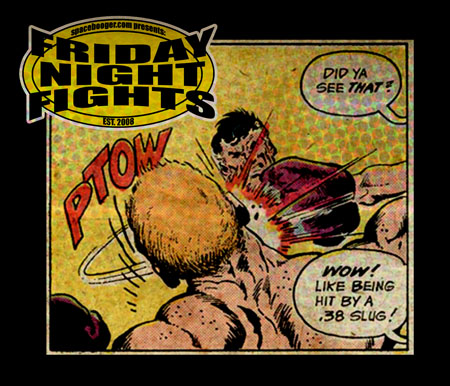 Welcome to
Spacebooger's
special
Prize Fight
round, titled
"FNF: Karate Kicks"
, where the special rule our host has given us is:
Every fight should have multiple kicks resulting in a KO!
You want multiple kicks, Fred? I'll give you multiple kicks, courtesy of this entry from Deadly Hands Of Kung Fu#24, written by Chris Claremont and beautifully illustrated by Rudy Nebres.
Synopsis: Danny Rand aka Iron Fist has journeyed to Hell to save the life and soul of the woman he loves, Jade, from the clutches of the evil Dhasha-Khan, who plans to use it to remake our world. The fight has taken them back to New York City. Unfortunately for Danny, he's already been killed and, as a result.....
...is a mere ghost of his former self.
How does Danny extricate himself and Jade from this predicament? By figuring out a special feature of the power that gives him his superhero codename.
And.....
Ok, that was technically
multiple kicks
, but I'm not stopping until the
KO
.
And here comes the KO.
Well, in this case "
KO
" is short for "
Killing Off
". But it still counts.
Tonight's prize fight music is by
INXS
.
For more
multi-kick melees
, click
here
. And don't forget to
vote
!