Friday Night Fights: Canelo - Round 12: Take The Supergirls Bowling, Take Them Bowling!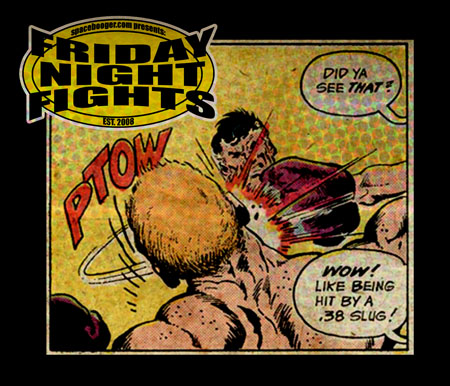 For tonight's round of
Friday Night Fights: Canelo
, I'm putting my mind in the
gutter
with
Adventure Comics#423
by
E. Nelson Bridwell
,
Steve Skeates
,
Mike Sekowsky
, and
Bob
Oksner
. Long story short: Aliens use
a pair of sunglasses
to enslave
Supergirl
by taking control of all her motor functions. The brother of the aliens' commander manipulates the enslaved
Maid Of Might
into melting her body-controlling shades with her heat vision, freeing her from their control. And now that she's free...the aliens are in trouble as she teaches them one of
Earth's leading recreational pastimes
.
Looks like she really
BOWLED
them over! I'd like to see
Melissa Benoist
do a live-action version of this.
The fight music for tonight's
tenth-frame fracas
is by
Camper Van Beethoven
.
For more
striking skirmishes
, click
here
. And don't forget to
spare
a vote!