Friday Night Fights: Double M - Round 3: Dungeon Master!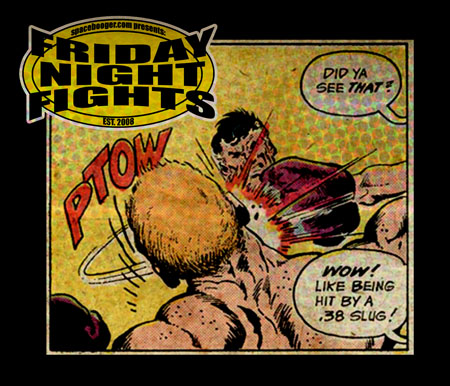 In light of recent events, I've made an important decision regarding my future
Friday Night Fights
participation, including the current
Double M
bout. Well,
sort of
important, anyway.
For the foreseeable future, I'm still going to be posting FNF rounds, perhaps missing just the occasional week or two. However, something had to give, so I've made the following decision:
My "post-victory Legion rule", in which I follow up every victorious round with a Legion Of Super-Heroes-related entry? GONE.
That doesn't mean no more Legion entries. It just means more freedom in deciding when to post a Legion entry, and when not to.
Now, on to tonight's round, which comes to us from Legion Of Super-Heroes#288, written by Paul Levitz and beautifully illustrated by Keith Giffen and Bruce Patterson. Synopsis: Princess Projectra's evil cousin Pharoxx has usurped the throne on her home planet Orando, defeated Karate Kid, and locked them both up in a dungeon to await execution. Karate Kid decides he's not going quietly, and starts engaging in some impressive sculpting work.
OK, remember that
stone dagger
the Kid was sculpting?
In honor of the Kid's
stone-cold awesome sculpting
, tonight's fight song is
this stone cold number
from
Ritchie Blackmore's Rainbow
.
For more
dungeon donnybrooks
, click
here
. And don't forget to
vote!