Friday Night Fights: Repeat Rehash Revenge! - Round 4: Here Comes The Bride, She'll Tan Your Hide!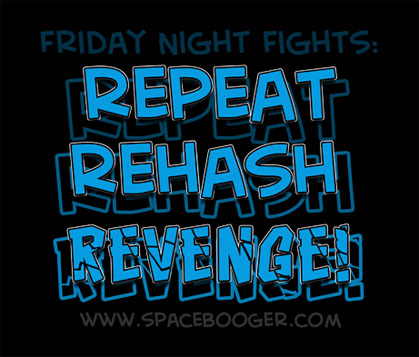 Welcome once again to Friday Night Fights: Repeat Rehash Revenge!, where the main rule is that each of my entries must contain at least one character that I used in my immediately preceding entry. For reasons that I will explain in future rounds, my rounds in this bout will be heavy on the Superman family characters. I've already used Supes himself in the first three rounds. Tonight, however, I'm giving Big Blue a rest to focus on another character who was featured in
last round's fight
.
Slay, Monstrobot of the Deep
won the last round by featuring
Daredevil in a fat suit
, so my featured combatant this week is.....
.......LOIS LANE IN A WEDDING DRESS.
Tonight's featured bridal brouhaha comes from the beginning of 1996's Superman: The Wedding Album one-shot. This scene is written by Dan Jurgens, Karl Kesel, David Michelinie, Louise Simonson, and/or Roger Stern (just go with it), and was illustrated by the art teams of John Byrne & Terry Austin, Kerry Gammill & Murphy Anderson, and Gil Kane & Bob McLeod (I'll leave it to you to guess which art team did which pages).

Synopsis: Lois is about to get married, not to the Man of Steel, but rather to........
......the most gullible drug lord ever.
(I love how Lois' word balloons here are in the shape of cute little pink hearts.)
Time for Lois to break out the champaigne!
Ah, nothing like a good
Crocodile Dundee reference
! Even back in 1996, that was still
really dated
.
Finally, Lois inflicts some
Kane Pain
...
For more pugilistic prenuptials, click
here
. And don't forget to
vote
!