Friday Night Fights: Assassin - Prize Fight: Quoth The Raven: "SPLAT!"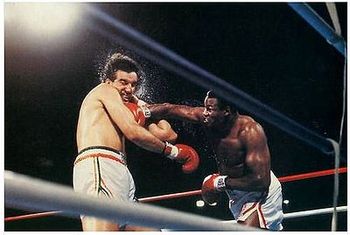 Welcome to tonight's
Friday Night Fights: Assassin Prize Fight
. Our host
Spacebooger
has given us
one special rule
:
It must be a fight scene featuring a fight where the loser "never saw it coming".
The final blow should take place either off panel or by surprise to win the championship.
Tonight's surprising slugfest comes from Defenders#10, written by
Matt Fraction
and illustrated by
Jamie McKelvie
and
Mike Norton
. Synopsis: The
Defenders
(aka
Black Cat
,
Iron Fist
,
Dr. Strange
,
Nick Fury
, and the
Red She-Hulk
) have been transported to an alternate-present Earth where nearly everyone is dead. Also? They're stuck at
ant-size
. They get rescued by
Scott "Ant-Man" Lang
and his ants and brought to an unknown location. Unknown until
now
, that is.
In other words, Ant-Man's mystery hideout is
in a garbage bag on a New York City rooftop
. (Not exactly the
Justice League Satellite
there, eh, Scotty?) And now that bag is being attacked by
ravens
.
Which brings us to our host's rule for tonight's fight: That
the loser never sees it coming
. This raven thinks that the ant-sized heroes will be
easy dinner
for him.
He's
wrong
.
NOBODY ever expects a growing angry red lady!
And nobody ever expects Tilly And The Wall, who will be providing tonight's fight music.
For more
unexpected embroglios
, click
here
. And don't forget to
vote
!