Friday Night Fights: Sugar Ray - Round 9: Feet, Don't Fail Me Now!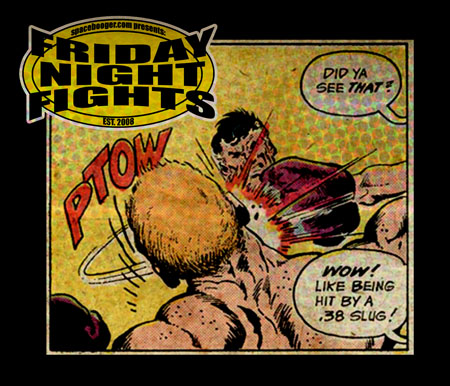 Tonight's round of
Friday Night Fights: Sugar Ray
features some
futuristic fleetness of foot
. It comes to us courtesy of
Legion Of Super-Heroes #287
by
Paul Levitz
,
Keith Giffen
, and
Bruce Patterson
. Synopsis:
Timber Wolf
,
Shrinking Violet
, and
Chameleon Boy
are attempting to infiltrate the
Khund
homeworld. They begin traveling incognito, but unfortunately Wolf accidentally bumps into a Khundian named
Kharlak
who, also unfortunately, just happens to be the reigning champion of the
Khundian Challenge Courts
. Because Wolf doesn't know the Khundian apology ritual, Kharlak teleports the 3
Legionnaires
to the Courts. At first Cham orders the other two not to blow their covers, but when Kharlak goes on the attack....
....Timber Wolf
cuts loose
!
So much for Kharlak's winning streak.
Tonight's fight music is this podiatric piece from Utopia.
For more
fancy footwork
, click
here
. And don't forget to
vote
!